08:1 This Is Not The Big Announcement
The speculation continues around the announcements being teased by the Pocket team over the last couple of weeks, with most folks suggesting that a mainstream CEX listing is part of the mix. While the team has remained extraordinarily mum about the whole thing (much to my chagrin), many folks in the community have noted the similarities in the current official Pocket Network #redpokt Red Envelope airdrop and Kucoin's well established hongbao tradition, which last year handed out over 100K in USDT in partnership with several projects.
Additionally, a non-trading info listing for Pocket was spotted on Binance, further fueling speculation that the recent fundraising round and expansion into the Asian marketplace may be aligned with a listing on a major Asia based exchange.
A few smaller "market maker" type exchanges have dipped their toes into the water, including a short lived listing on Hotbit which did not appear to have the liquidity to cover sales made there, and an upcoming listing on XT.com, which also appears to be an OTC desk with an exchange interface, relatively low liquidity, and high withdrawal fees. Until there is an official announcement in partnership with Pocket Network, your best bet is still going through the community vetted secondary marketplace.
08:2 And In Other News…
Pocket Network has been crushing traffic totals in the last week or so with daily average relays around the 300MM range: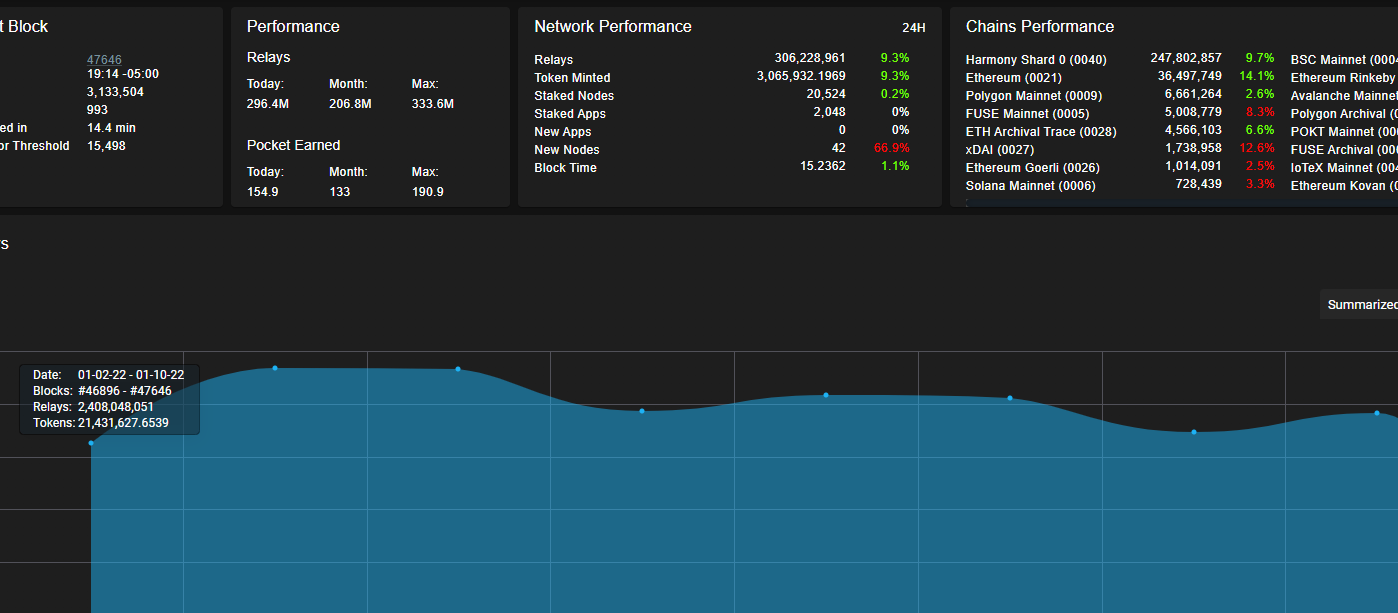 Traffic is generally ramping upwards, with nearly 250MM relays per day organically growing from Harmony usage as more and more Harmony based dapps make use of the broad support for ONE on the network. xDAI took a dip back below ETH this week as DFK play slowed, but all in all, relays are continuing to establish new higher baselines every week.
The performance of the network has gained it a lot of attention, with a number of Twitter influencers referencing the project as a must have for this year. Consequentially, Pocket related communities have seen a massive influx of news user, not the least of which are the communities surrounding OTC desks. Pocket spot pricing briefly touched $3 during frenzied buy pressure moving record numbers of tokens through all supported desks.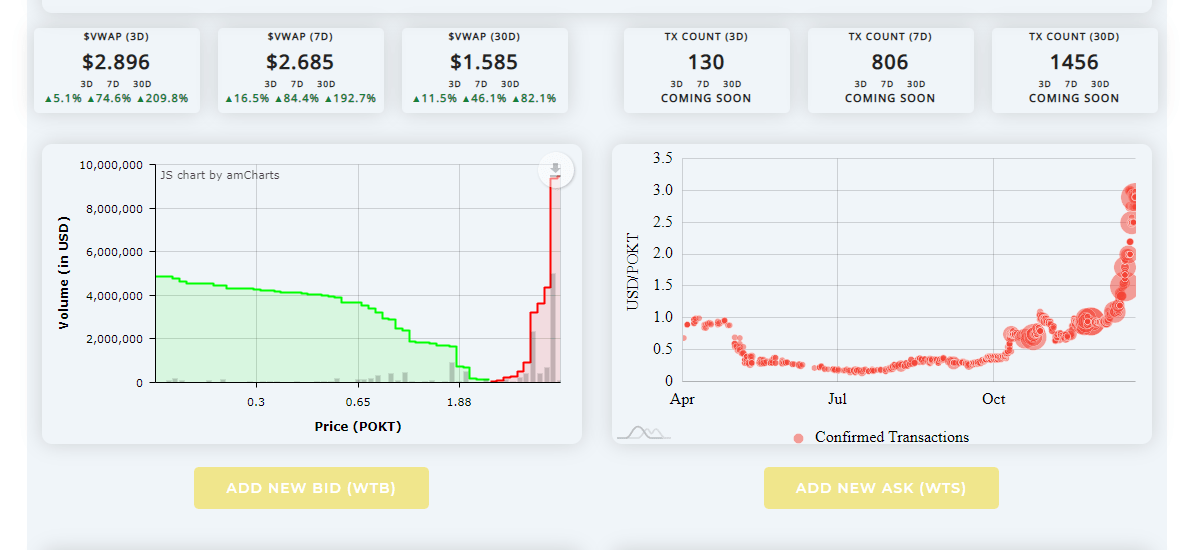 Every influencer wants to be able to say they called the big winner in advance, but few are willing to do the down and dirty work of getting in the network and deeply understanding how it works. One of the rare exceptions to that has been Moskovski Capital CIO Lex Moskovski with a big brained deep dive on the project:
@POKTnetwork is a crucial piece of Web3 infrastructure, finally starting to get a glimpse of recognition it deserves.

We have spent a couple of months crunching its blockchain and this thread is a tl;dr of the tens of gigabytes of data.$POKT

🧵 [1/19] pic.twitter.com/cOBWB0rruu

— Lex Moskovski 🐙 (@mskvsk) January 5, 2022
We always say DYOR around any project you get involved in, but with the amount of great third party analysis out in the wild right now, you have zero excuse not to be clued in about what Pocket is, what it does, and why that matters.
Sharp eyed poktopi noticed something else this week: the refreshed wallet UI being tested out on pocket testnet: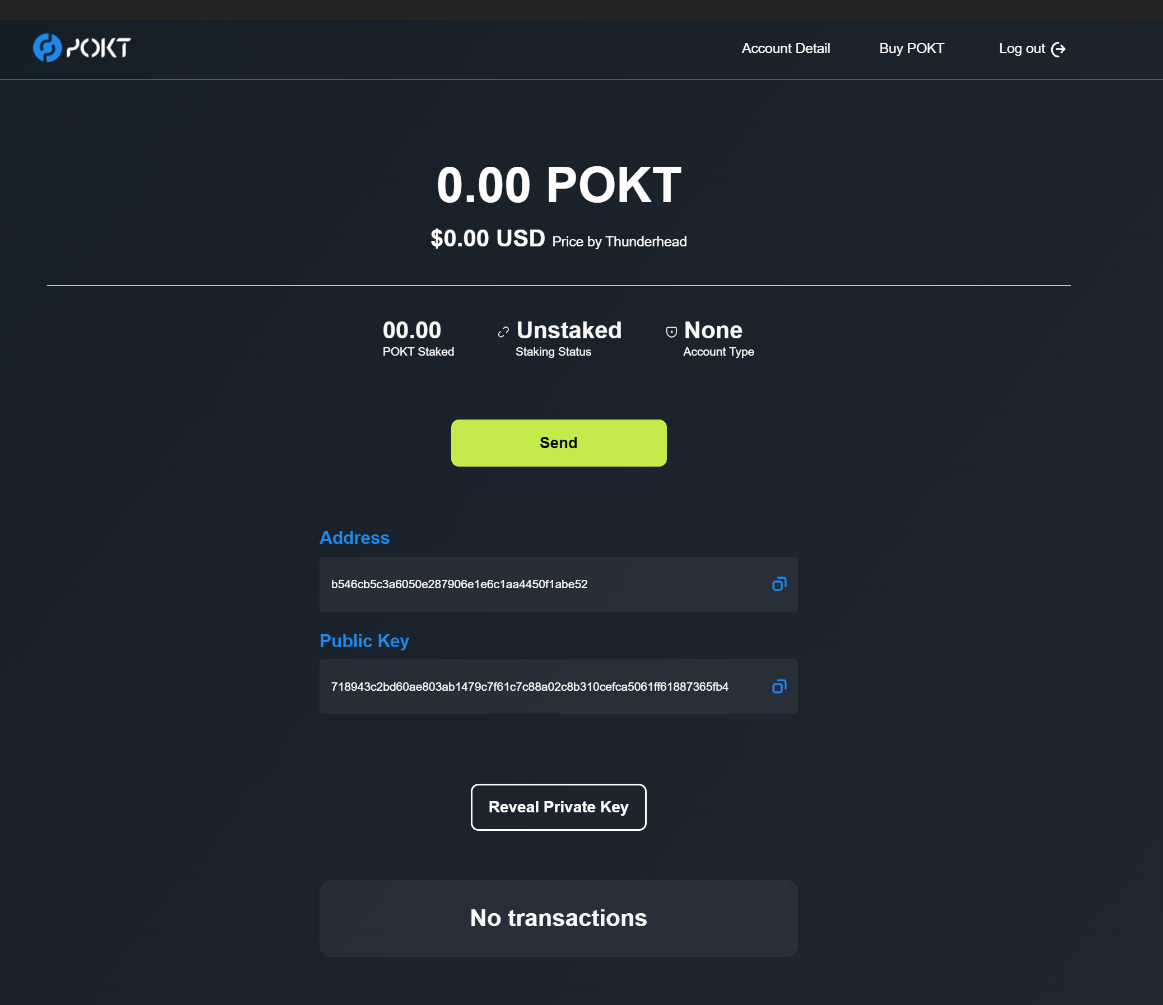 I'm a big fan of the work that Vale and the rest of the design team put out, and I'm looking forward to seeing the UI refresh pushed to production.
08:3 A Red Pokt #POKTSTORM
To match the Pocket Network official 88,888 Red Pokt Airdrop, the Poktopus communities in conjunction with the poktpool put together a matching 88,888 $POKT giveaway, giving 71 lucky tweeters a compounding stake in the pool:
IT'S THE RED ENVELOPE #POKTSTORM!

71 recipients over the next 11 days will be staked in the poktpool for a total of 88,888 $POKT. To enter, follow me, like this tweet, and quote tweet it with your pokt wallet address. READ THE FULL THREAD. pic.twitter.com/S5XB77T70p

— The Poktopus | poktopus.eth🐙 (@thepoktopus) January 8, 2022
The first sets of winners have already gone out, but there are ten total days in this giveaway with 7 winners a day, and the grand prize 8889 $POKT stake going out on 01/17, so get your tweets in now.
08:4 /dev/null
I was pleased to see that Pocket CEO Michael O'Rourke returned to blogging this week, with a thoughtful opening missive on the future of Pocket as the leader of the multichain world:
Short to medium term, the obvious opportunity for Pocket with the rise of a multichain world (outside of attracting the largest existing dapps) is the opportunity to become the default node infrastructure platform for multichain applications and other middleware such as wallets, bridges, and cross-chain DEXs. Middleware platforms that touch many chains don't want to deal with the complexity of dealing with many RPC providers with varying levels of reliability. Pocket shines in this respect, as the more traction a given chain we support gets, the more reliable our infrastructure becomes. Also, Pocket acts as one interface to every chain. Think about that for a second.
As a matter of fact, I've been thinking about exactly that for months now. Most of the chains that have been actively seeking Pocket out have been doing so at the moment of critical need; their networks are overwhelmed, and they need rapid scaling solutions. This year, I expect people will finally catch on to the need to build decentralized multichain support in from the beginning. Project that build unstoppable infrastructure from the beginning will rapidly acquire user base while projects that don't are struggling to transition to fallback solutions.
The opportunity to be first in class is rapidly coming to a close. We'll see the winners and losers shake out aggressively this year as web3 comes into its own. If your dapp is built on the infra layers of the future, you'll be part of the former group.
And if not, then it won't.
That's all this week. See you on Twitter.