12:1 A Slow Climb Upwards
After several weeks of the doldrums caused by a market wide crash, $POKT broke $1.30 on the exchanges this weekend and stayed there, potentially setting up a new floor at the previous resistance of $1.29. And, after what seemed like a number of early speculators taking profits, the 24 hour volume settled down to just under 5MM USD, likely signaling exhausted bears, and setting the path for incoming bulls to buy the ladder upwards.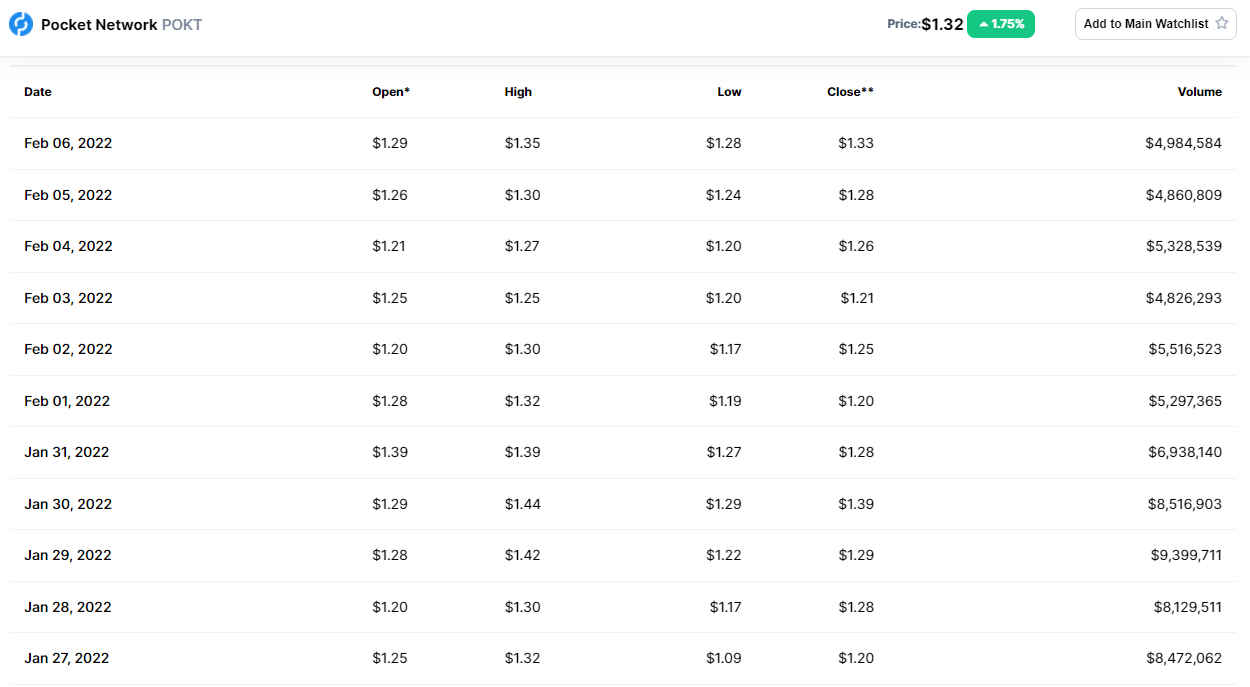 The chart making crew over in the PoktoPrice Trading Discussion Group think that we're going to see a few more bounces off $1.29 before it truly breaks out, so there may be a few prime entry points along the way.
The network itself kept humming along, with a consistent average of roughly 300MM relays daily minting around 3MM new $POKT for noderunners along the way:

New node growth continues to explode with just under 28K nodes now staked on the network, representing over half a billion dollars bet on increasing growth in the months and years to come. Australia's Apollo Capital sang Pocket's praises this week, stating:
"So at these prices, Pocket's quite attractive, and that narrative that we spoke about in October's still there. A lot of projects are looking to use Pocket to mitigate Infura going down….we're super bullish on Pocket for 2022."
His words couldn't have been more prescient, given that earlier in the week, centralized RPC provider Infura had a ten hour outage for its Polygon services: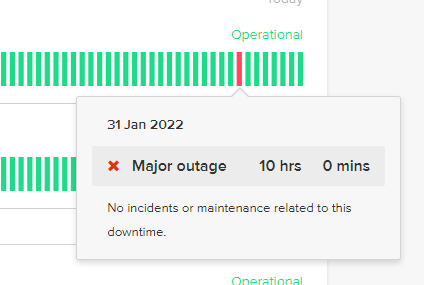 This added to the series of Arbitrum outages, and has proved to be yet another wake up call for centralized services. Some folks reported that planned launches had to be delayed while their RPC service was offline, while millions noted that their favorite dapp was no longer working.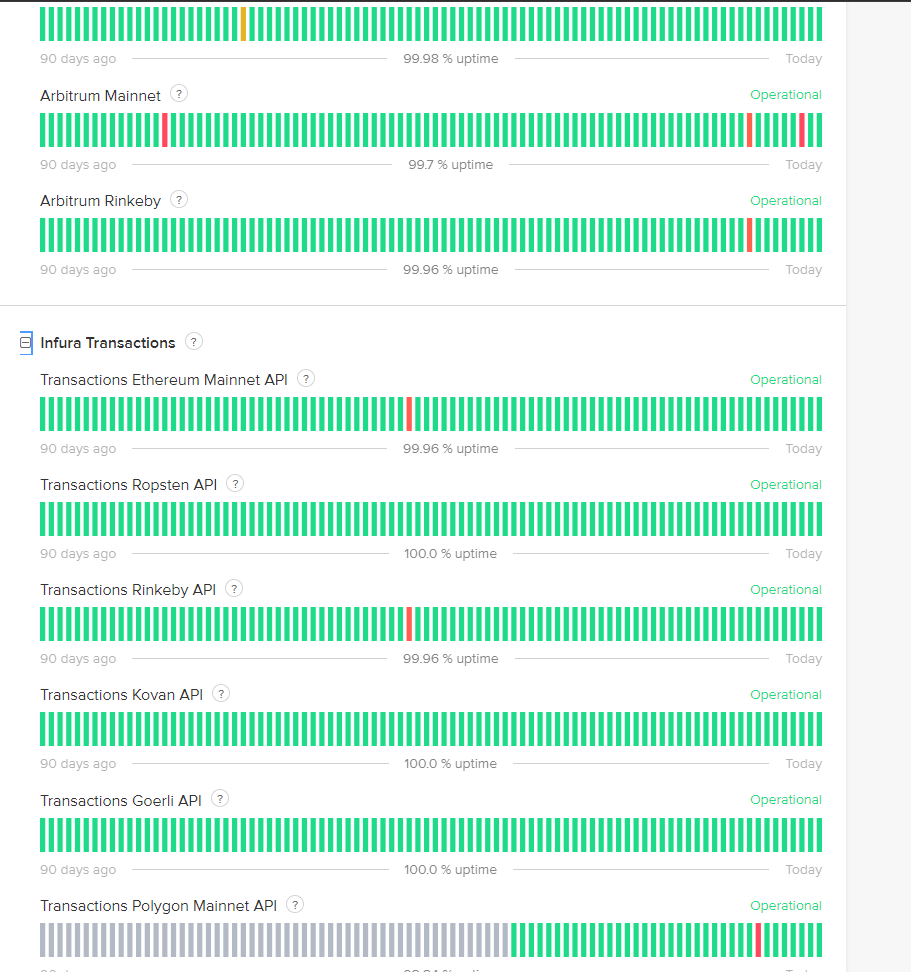 As long as dapps continue to rely on centralized services for their back ends, they'll continue to be decentralized in name only, and subject to the downtime inherent in those services. It's well past time that developers live up to the promise of web3 by actually using web3 distributed back ends.
12:2 Community, Ecosystem, & Governance
The hot topic on everyone's mind in governance recently has been inflation control, with PUP-11 (the WAGMI proposal) generating significant debate. PUP-13, proposed on Saturday, has finally set out the schedule and numbers around the initial PUP-11 implementation:
I propose the specific WAGMI rates to be:

Upon passing: Target Inflation Rate = 100.00%
Passing +30 days: WAGMI Target Inflation Rate = 90.00%
Passing +60 days: WAGMI Target Inflation Rate = 80.00%
Passing +90 days: WAGMI Target Inflation Rate = 70.00%
Passing +120 days: WAGMI Target Inflation Rate = 60.00%
Passing +150 days: WAGMI Target Inflation Rate = 50.00%

All else equal this would look like the following for per node rewards:

Upon passing: Target Inflation Rate = 84.85 POKT/Day
+30 days: Target Inflation Rate = 76.36 POKT/Day
+60 days: Target Inflation Rate = 67.88 POKT/Day
+90 days: Target Inflation Rate = 59.39 POKT/Day
+120 days: Target Inflation Rate = 50.91 POKT/Day
+150 days: Target Inflation Rate = 42.42 POKT/Day (or 15,486 POKT/year)
"All else being equal" is the operative phrase there, as tripling the current relay rate moves rewards back up to over 100 per day, but with a higher volume through the network, at an appropriate inflation rate. As I mentioned last week, Pocket CEO Michael O'Rourke showed how rapidly inflation would grow once we cleared a billion tokens minted, and it wasn't pretty, so I'm happy to support this revised proposal as a DAO governor.
The fine folks over at ThunderheadOTC are rolling out something special this week that you don't want to miss, and they've dropped a couple of teasers along the way:
Huge announcement from Thunderhead coming soon. Stay tuned 🙂$POKT

— Pierre | Thunderhead (@P1erreM) February 6, 2022
That's a pretty clear head's up, but then Pierre followed it up with this:
Drop your Polygon address. Don't ask why 🙂$POKT

— Pierre | Thunderhead (@P1erreM) February 7, 2022
Sounds like it's a good time to drop your Poly address if you haven't done so already, because those lads clearly have something in the works.
12:3 The Return Of The #POKTSTORM
In celebration of breaking 5K followers on Twitter, I ran a "5K for 5K" #POKTSTORM this weekend:
Ready for a #POKTSTORM? Like this, follow me, and quote tweet this post with your Pokt Network wallet address. I will pick 5 quote tweets to drop 1K $POKT each tomorrow at 3PM EST. Details below: pic.twitter.com/yNAG6mcaog

— The Poktopus 폭토푸스 | poktopus.eth🐙 (@thepoktopus) February 5, 2022
It was a fun 24 hours or so watching the entries come in, and in the end, we had some very happy winners:
I've never won anything! Yay! $POKT #poktstorm shouts out to @thepoktopus — Can't wait to stake! https://t.co/eqKNalEvye

— tahirjahi (@tahirjahi) February 6, 2022
@thepoktopus I finally did it!! 😁 Thanks!

My fiance will get started in the pool, and next year we'll both start pulling out our passive income by skimming a bit of $POKT. For now, 100% compounding 💪💪💪

— Nick Cosentino (@nbcosentino) February 6, 2022
It's always fun seeing folks come in to the $POKT family this way, and congrats to all the winners. Stay tuned for our next big giveaway by following @thepoktopus on Twitter, and make sure your notifications for me are on.
12:4 /dev/null
The culture of web3 is not carved in stone. It's what you, I, and all of us collectively make of it. It's easy to anthropomorphize a tech stack and ascribe some morality to it, but that's always going to be disappointing, and the same anonymity that allows one person to participate in a community without being marginalized will also protect others whose values and beliefs may be highly offensive to our own.
It's on all of us, every day, to demonstrate the values we hold. They're not baked into the protocol. They're as decentralized as the dapp itself. We're each nodes in a vast and diverse cultural network, and the quality of that culture is what we have to work for every day.
That's all for this week. See you on Twitter.