18:1 Resurrection
Yes, I know. It's been months since I put in a post. Despite having lived through several bear markets in the past, I was caught off guard by the swift ferocity of the global macro shift, the ongoing grinding war in Ukraine, and the economic fallout from all of the above. And it meant putting in some extra work to keep my own house in order, which distracted me somewhat from my writing. The week of the anniversary of the Poktopus presented an opportunity to get back on the wagon, and talk about where we've been, where we are, and where we're going. I spent a little time on a Twitter thread about it:
A year ago today, after a couple of rounds of conversation, @mskvsk convinced me it would be a good idea to start this account. And what a year it's been. 🧵👇 pic.twitter.com/FydnyFliUq

— The Poktopus 폭토푸스 | poktopus.eth🐙 (@thepoktopus) November 1, 2022
Now that I've gotten ahead of some of the tough stuff (and finally finished renovations), I figured it's time to get back to sharing my thoughts in structured fashion. So, here we go.
18:2 The State of the Network
It's hard to even wrap my head around the extraordinary amount of growth and improvements to the network since the last time I posted. Pocket has gone from a few hundred million relays a day to over a billion consistently, averaging around 1.2-1.3BN relays daily over the last few weeks. Simultaneously, inflation on the network has dropped by a factor of 10, going from over 200% to around 26% currently, with a target of 17% by the new year (and a progressive drop down from there over time). With the latest adjustments now live, the last 24 hours resulted in ~1.1BN relays with 992K tokens minted, the first time it's dropped below a million tokens per day since early in the growth phase. While the tokenomics model hasn't followed the original "Tenthening" structure, it IS still achieving that level of reduction, with a 10X deflation already achieved, and another 10X from here in our sights.
With the cost of infrastructure becoming a priority concern, the Thunderhead and PoktFund teams open sourced their version of a light client called "LeanPOKT", which allows for multiple POKT node accounts to be stacked on one full service node. This has the potential to reduce hard infra costs across the network substantially, and we're starting to see it used more broadly across the network since it was folded into the Pocket core repo. In addition to that, stake weighting was implemented in PIP-22 which allowed for a four time multiplier on node rewards by staking up to 60K each. In combination, those two improvements could theoretically reduce total hard infra cost by up to 90% when fully implemented across the network.
There has been a lot of analysis and speculation about the total number of nodes required in the network to be "right sized" for the amount of throughput, but when QoS and low latency are critical requirements as part of that, regional redundancy and high availability have to be factored in as well. With that in mind, the POKTScan team has put together Geo-Mesh, a research project building out a multi-region service layer so that service nodes can serve multiple geographic zones simultaneously. This has the potential to let servicers optimize rewards regardless of the regional variances in traffic concentration, and will likely help drive a tighter coordination of total coverage (and thus, node count).
18:3 The Future of Pokt
While advancements to the core and supply side have been massive over the last year, we're still a little ways from achieving the mission of a fully permissionless network, a goal projected to be achieved in the early iterations of v1, the single most significant overhaul of the network since it went online. To become the default decentralized RPC provider of web3, POKT has to achieve two things: offer low latency high QoS relays at a competitive price in relation to centralized providers, and, allow for the network to be accessed in a permissionless fashion that is truly unstoppable. To date, the Portal (and its Cherry Picker functionality) has been managing the QoS aspect, testing QoS as sessions start, and picking routes based on that sampling. Because of this, however, it became an enforcement target during the OFAC actions around Tornado Cash, a smart contract sanctioned as an entity due to its use for criminal money laundering. This event drove home the need for POKT to complete its mission of having fully permissionless ways to access the network while still maintaining a high level of service, something that the fisherman actors in v1 help accomplish. The protocol team is pushing hard and fast to get us to that goal.
Liquidity in the markets has been a concern over the last six months as the CEX trading options for POKT were mostly smaller exchanges with limited liquidity. Pocket was finally listed on top 5 exchange Kucoin last month, providing access to larger markets.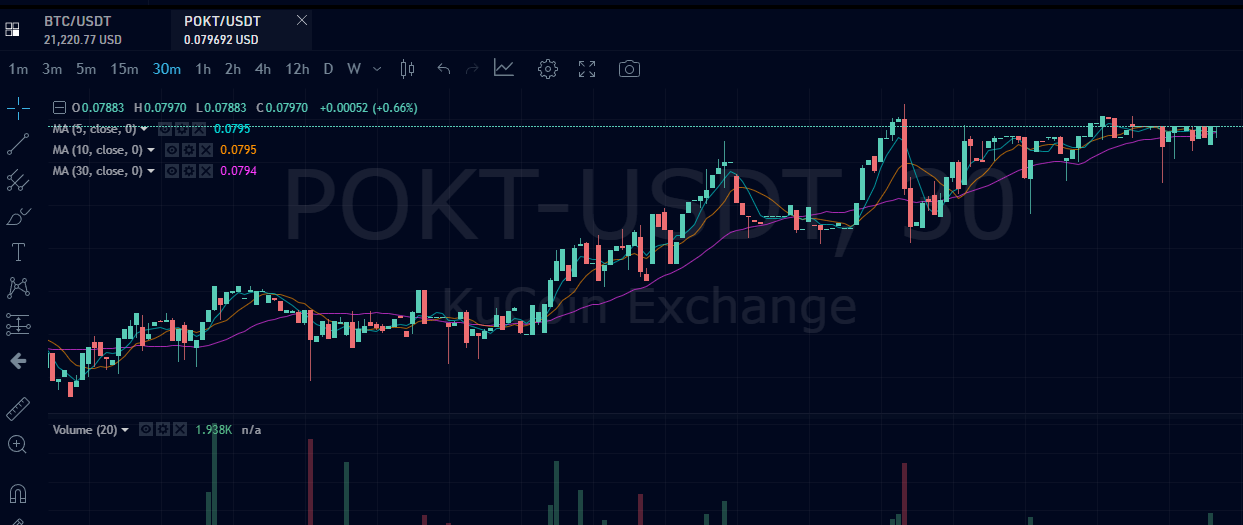 While I'm still holding out for US based exchanges where I can KYC (*cough*CoinBase*cough*), the addition of a higher volume exchange is a first step in increasing liquidity around the token. Combined with the monetization of the Portal, and the beginning of buybacks by the organization, we're seeing the groundwork laid for the next round of growth in token value as the markets slowly make their way out of the bear.
Pocket has already become the decentralization layer for Ankr, and now that Infura has decided that decentralization is important, there's broad expectation that POKT will be the go-to for a number of larger RPC providers seeking the unstoppability of decentralized RPC routes. Institutional services such as BlockDaemon are now supporting Pocket nodes, with more expected to come. It can be hard to see where we go from here during a market in which most assets are down ultra bad, but when stepping back and taking a broader look at the ecosystem, Pocket is poised to take a huge leap forward as web3 becomes more broadly integrated into the technology world at large.
18:4 /dev/null
If you've been paying attention to me at all over the last year, you know how important community is to me. And community can be a fickle beast; they love you when they're up, and hate you when they're down, and much like a parent, you've got to keep loving them no matter what. What's more, you have both producers of value and extractors of value all combined in the same ecosystem, which means that you'll have folks working against you for their own gain as part of the mix. It leads to some complicated dances sometimes as you balance the desire for a healthy community with the need for some constructive and protective enforcement at times. I've been incredibly proud of the community we've built across a number of groups on Discord, Telegram, and Twitter over the last year. We've weathered some pretty serious storms, stood strong in the face of the bear stripping a ton of value away, and in many ways helped self-police against those whose goal is to tear down and extract versus collectively building towards the future.
But in one pretty specific way, our community is a bit lopsided: we are heavily skewed to supply side, a community dominated by noderunners, with little representation from dapp developers and other users of the service noderunners provide. This results in a myopia which is obvious in many of the DAO proposals and structural analysis in our ecosystem. We rarely see the needs of relay users represented well. This must change. Pocket is reliant on a healthy two sided marketplace to achieve its goals, and our community needs to represent both sides of that coin. It should be our mission as noderunners and network emissaries to seek out and welcome in the very builders we want to see using our network.
Towards that end, I've created a private Discord for people willing to put in some time and effort helping to magnify the message of what Pocket is, what it's capable of, and why developers and chains want to use it, whether or not they know that now. It is an invite only server, a little noisy, since we're coordinating on messaging, and is definitely not an open free for all. However, if you are known in our community for helping support the mission, and you'd like an invite, shoot me a message on Discord, and I'll get you in.
As the Pocket teams push hard to get us across the line to the next iteration of the network, it's on all of us to shine a light on what the future of web3 looks like, and Pocket's place in it. I hope you'll join me.
That's all for this week. Until next time, I'll see you on Twitter.