04:01 Wen bridge?
It was another banging growth week for Pocket with 1.1BN relays processed after an AWS outage prompted a number of Harmony users to switch to the Pocket RPC endpoint, and the xDAI version of Dark Forest sending a huge burst of traffic through. ETH, Fuse, and Poly rounded out the top five chains by relay: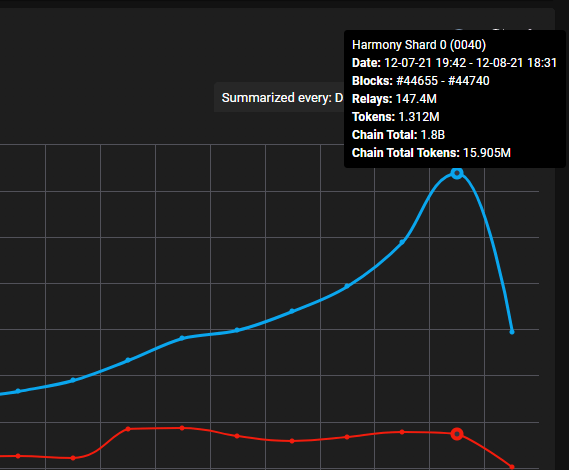 The spillover to Pocket caused by AWS powered endpoints failing led to an all time daily high of 216MM relays on Friday the 10th. This led to some increased interest in the protocol, with OTC market pricing enjoying a small jump in the weekly average from .80-.90 to .90-1.00 in deals closed, and the 30 Day VWAP up over 30%.
But the biggest news of the week was in the wPOKT DevLog #3, showing significant progress on the wPOKT bridge:
The wPOKT <> POKT bridge is in its final development stage. From here on out, testing and quality assurance will be our priority.

The objective is to have a multi-sig of 7 signers and we will require a predefined number of 5 signatures to confirm every transaction in order to execute it. This high threshold will secure the wPOKT contract.
Some sharp eyed observers in The Poktopus Den noticed that a dry-run of the LBP was being tested over on Kovan at Copper: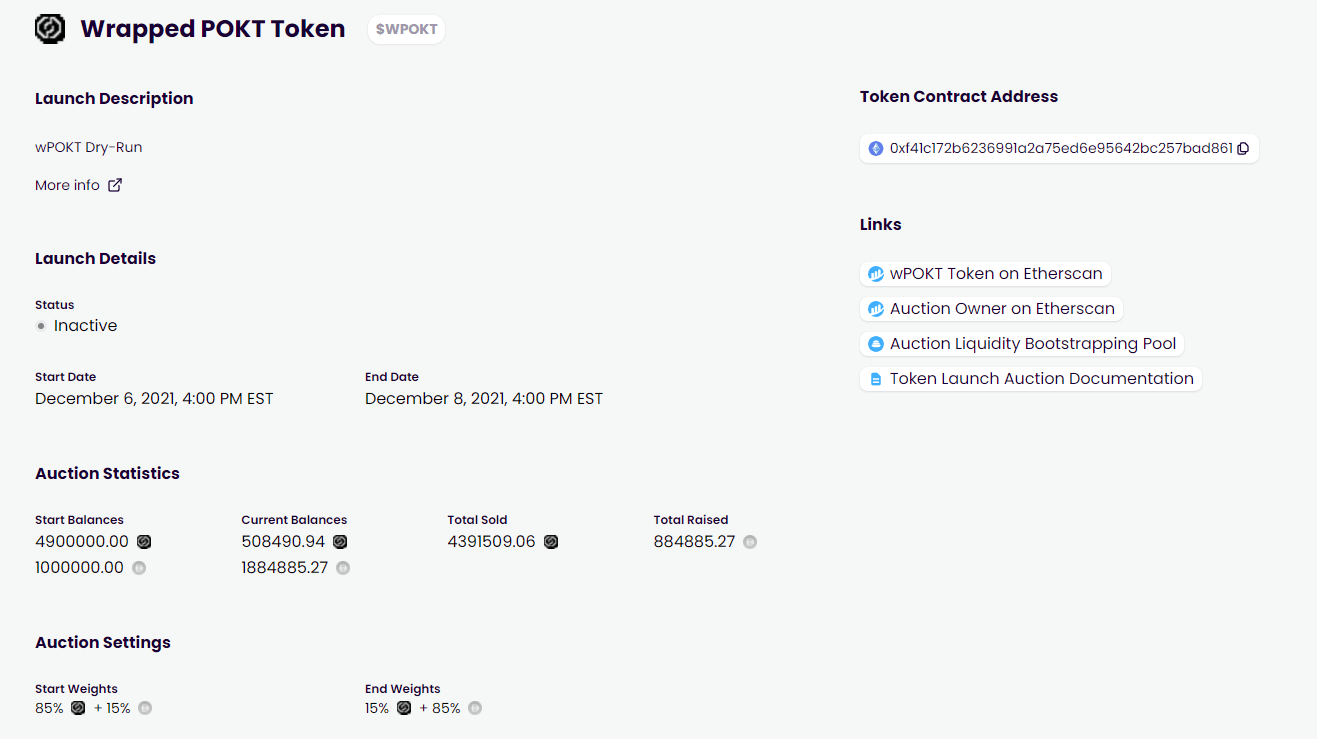 The team confirmed the test went well, and with development of the bridge moving into QA, it's almost ready for security auditing.
While minting has been cranking along with the growth of network transactions, staking is keeping pace, and we're still on track to flip staked versus unstaked in a few months if the current rate is maintained: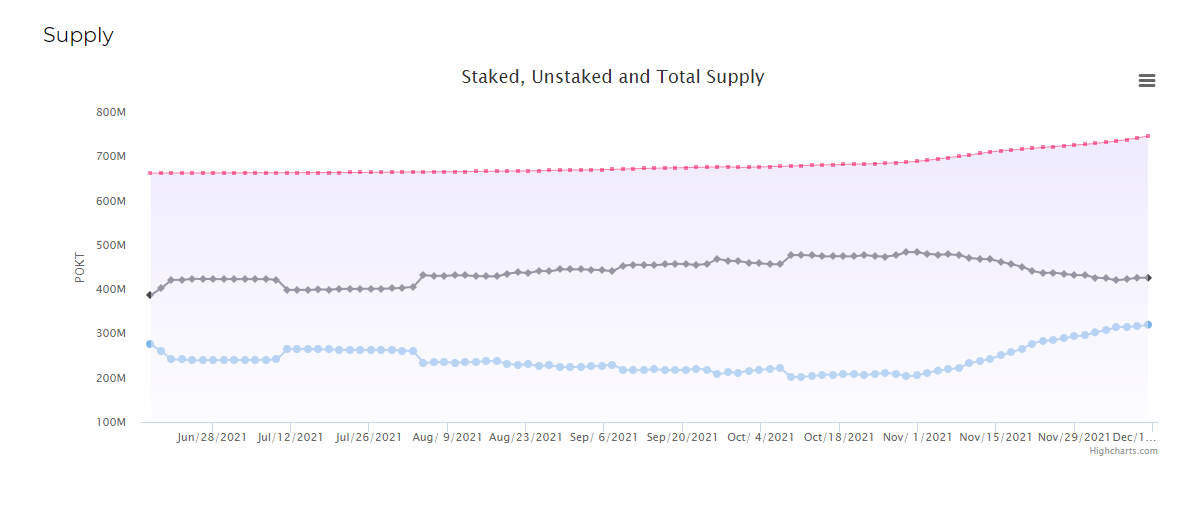 All in all, Pocket Network is humming along with steady sustainable growth, and an engaged ecosystem.
04:2 Community, Ecosystem, and Governance
The Universal Contributor Income proposal goes up for a DAO vote this week ahead of the monthly community meetup. The proposal will use Coordinape to directly reward contributors to the community and ecosystem without needing to go through the process of a DAO proposal and approval. This opens up meaningful rewards for non-technical contributors, something which has been difficult in the past. There was a long, thoughtful conversation in the comments about the rewards mechanism, and how it would be targeted, but at this point I expect the proposal will pass. I'll announce the results on Twitter once they're in.
The Poktopus Den Community Chat channel added official merch this week with a series of branded shirts and hoodies that are pretty damn sexy if I do say so myself: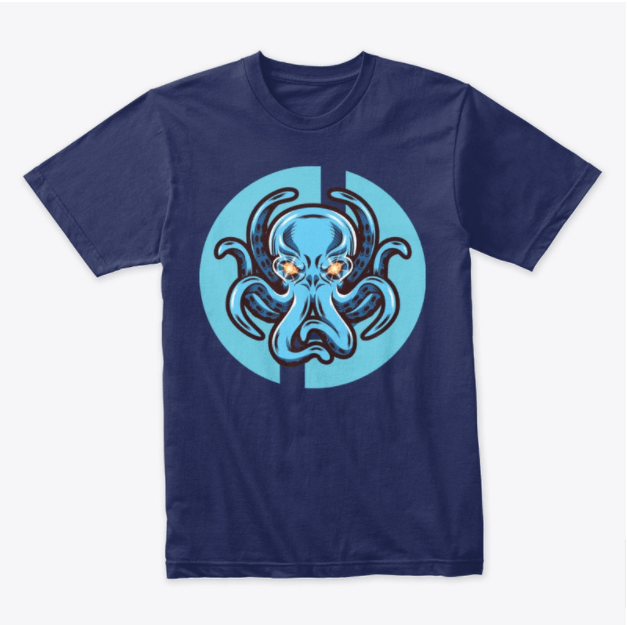 Evmos announced that they are partnering with Pocket to roll out decentralized RPC infrastructure to developers on on the world's first EVM compatible Cosmos blockchain:
When Olympus Mons becomes available through the Pocket Network protocol, developers will be able to mint an endpoint directly from the Pocket Portal. At that time, both application end-users and developers will also be able to test out Pocket's decentralized RPC service by using a sponsored RPC endpoint, which will be available on their public endpoints documentation page.

Developers will be able to start building with POKT on Olympus Mons (our ongoing incentivized testnet), HackAtom VI and the subsequent Evmos mainnet. Using this guide, developers can add the Evmos network in Metamask using a Pokt-powered RPC endpoint.
We're happy to welcome Evmos to the every growing Pocket family.
Community member Jeet put together a thread on the "flywheel effect" in crypto, and how it pertains to the growth of Pocket. It's a helluva read, and I recommend it:
Thread about #flywheels in cryptoland and why the @POKTnetwork is experiencing exponential growth in protocol capacity, adoption, revenue to $pokt node runners and, yes, token price, while many other protocols fail to keep the flywheel spinning. pic.twitter.com/81EYEqEAzm

— miner49er, the pocket network maximalist (🐙,🐙) (@miner05843298) December 11, 2021
This week on the Discord, we have both our weekly Node Runner Office Hours call on Wednesday at noon EDT, and the Pocket Monthly Community Call Friday at noon EDT. I'll be hosting the Office Hours call, and live tweeting the Monthly community call, so make sure you stay tuned for both.
04:3 The Plethora of POKT Giveaway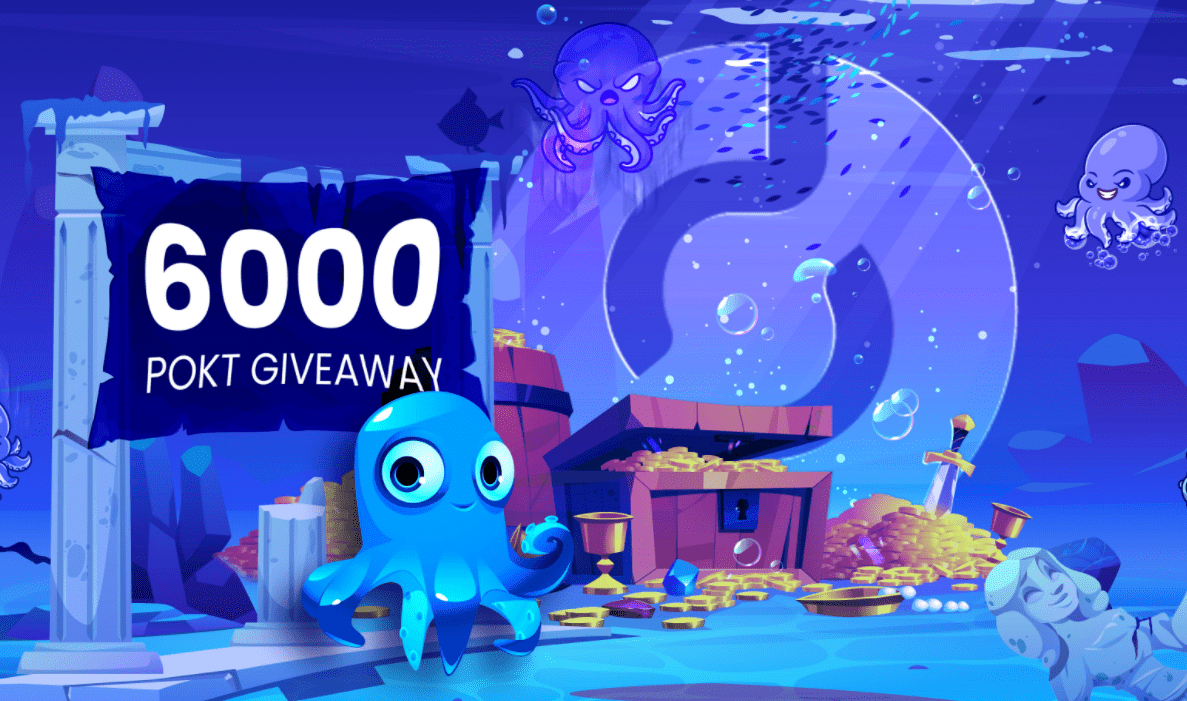 The community-led POKT giveaways have been popular, and now that we are putting the recipients directly into staked pools where they can start earning rewards, recipients don't have to wait to accumulate the full stake to start participating in the network. This week, in celebration of our monthly community meetup call, we'll be randomly picking three lucky wallet addresses to get staked to the tune of 2000 POKT each. Winners will be staked for a minimum of 60 days in the pool, with the option to compound rewards into a larger position.
To participate, you'll need to have a wallet on the Pocket Network, and join the Pokt Pool Telegram channel, so if you haven't done that already, head on over and get prepared ahead of time.
04:4 /dev/null
Amazon's AWS outage last week had some surprising victims: "Web3" companies whose decentralization apparently wasn't all that decentralized. Vice turned in a snarky take in "Amazon's Server Outage Took Down a 'Decentralized' Crypto Exchange" asking "How decentralized is decentralized finance?":
Decentralized exchanges generally run directly on top of a blockchain, which means that they have some usability issues (like high fees), but reap the benefits of a decentralized blockchain, like not having a single point of failure. But in many cases, full decentralization is more of a stretch goal than a current reality.
While blockchains themselves may be decentralized to some degree, it's an open secret that many of the interfaces (if not nodes themselves) rely on centralized infrastructure. While the future of Web3 may be full decentralization, it's clear the present has a little way to go.
It IS possible to build fully decentralized apps and websites. Decentralized stacks for compute, filestore, datastore, and delivery exist, and are being used to host among other things WordPress CMS sites. And I don't think that the developers working on blockchain are choosing solutions like AWS because they're uninformed or lazy; the appeal of well established providers with a rapid deployment platform in a landscape as fast paced as crypto is clear.
But the question is, if Web3 companies aren't willing to dogfood fully decentralized solutions, why should their customers? All of our DAO collaboration and community spirit means nothing if we have a centralized skeleton in our closet just waiting for the next major ECS outage to out us as not being as fully committed as we say we are.
Pocket Network isn't immune to this either; while the percentage of nodes running on AWS is small and getting smaller every day, supply chain delays and high up front costs have limited the expansion of bare metal nodes in favor of cloud based solutions for a number of third party noderunner services. Pocket's network showed the resiliency of its decentralization by doing a record high number of relays during the outage, with no degradation of service, but a number of nodes were jailed along the way for timeouts and non-responsiveness.
If Web3 is to achieve its mission of bulletproof service with 100% uptime through mass decentralization, it must fully commit to the tenet of mass decentralization. Web3 CTOs need to be evaluating their use of cloud services versus decentralized compute and storage, and looking for opportunities to decentralize their stack end to end.
When AWS goes down (as it inevitably will again), and Web3 companies are completely unaffected, instead flawlessly handling the spillover demand from failed services, then we'll know we've moved from what Pocket CEO Michael O'Rourke calls "Web2.5" to our fully decentralized future. Until then, we probably should keep to only preaching what we practice.
That's all for this week. See you on Twitter.